On the right half of the coat of arms is a red bear in a standing position, facing the left, heraldic side. According to the explanations, the bear is an ancient Slavic symbol that binds the Ruthenians to their ancient homeland in the Carpathians. The other half of the coat of arms is divided into seven horizontal fields, alternating between strips of dark blue and gold-yellow.

The coat of arms described conveys the historical Rusyn tradition. On March 30, 1920, it became the official coat of arms of the Autonomous Region of Subcarpathian Rus, with its headquarters in Uzhgorod as part of Czechoslovakia from 1919 to 1938. On this coat of arms, the blue stripes indicate four counties: Ung, Bereg, Ugoča and Maramoros, which were included in the mentioned area, and three gold-yellow strips symbolise the three gold-bearing rivers in the area: Uz, Latorica and Tisa.
The combination of blue and yellow is certainly present in the designations of several counties in the Zakarpattia (Subcarpathian) area, and the blue-gold color combination is also the designation of the Rjurikovićs, the ruling house of the Kievan Rus, the first medieval state of the Eastern Slavs, that is, of Ruthenians (Rusyns).

Today, this coat of arms represents the generally accepted sign of most Ruthenian organizations worldwide: in Slovakia, the Czech Republic, Poland, Ukraine, Hungary, Romania, Croatia, Serbia, Germany, the USA, Canada and elsewhere. It is a recognizable sign and part of the identity of all Ruthenians, regardless of their regional affiliation and national orientation.
FLAG
The Ruthenian flag in Serbia is a tricolour flag of the Republic of Serbia on which the coat of arms of Ruthenians in Vojvodina is affixed. In this way, a unique symbolism was created – the geographical and emotional affiliation of the Ruthenians to the state of Serbia and the traditional communion with the nation-forming nation, and at the same time an indisputable connection with the historical end of its origin.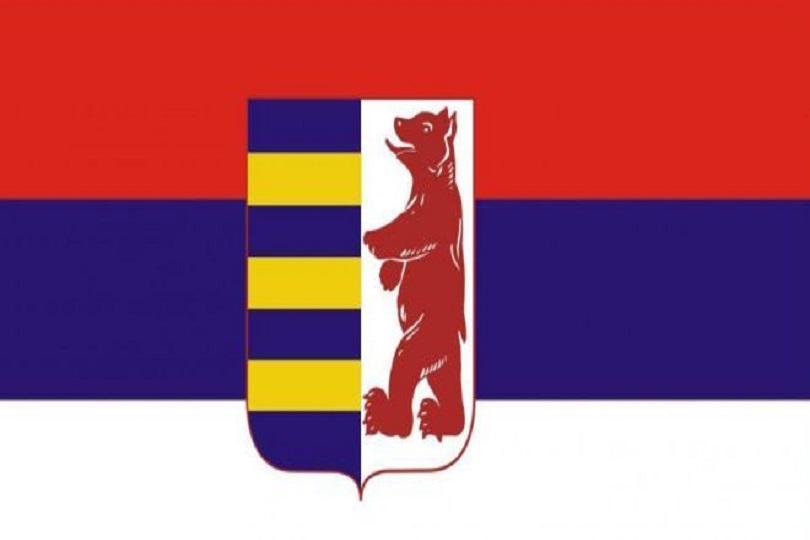 NATIONAL HOLIDAY
January 17 is accepted for the National Holiday of Ruthenians in the Republic of Serbia. On the same date in 1751, Franz Joseph de Redl, advisor to Empress Maria Theresa and administrator of the Royal State Bačka District in Sombor, signed the first official document – the Agreement on the Settlement of 200 Ruthenian Greek-Catholic Families on the, at that time, dessert of Ruski Krstur. This day has been accepted for several decades as the day of the official settlement of the Ruthenians in these areas.